Date:Saturday 22 August 2015
Time:10:00am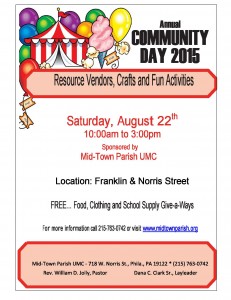 We invite members of our surrounding North Philadelphia Community to join us for our Annual Community Day, Saturday, August 22nd from 10am until 3pm at 7th & Norris Streets.
We will have available tables of resources, information and free clothes. We will have free refreshments and food as we enjoy a wonderful summer day together. And we will also give away book bags and school supplies to our students in order to prepare them for the coming school year.
Come on out and enjoy a fun filled day with the Mid-Town Family!